I would like to share my nutrient packed smoothie recipe with you.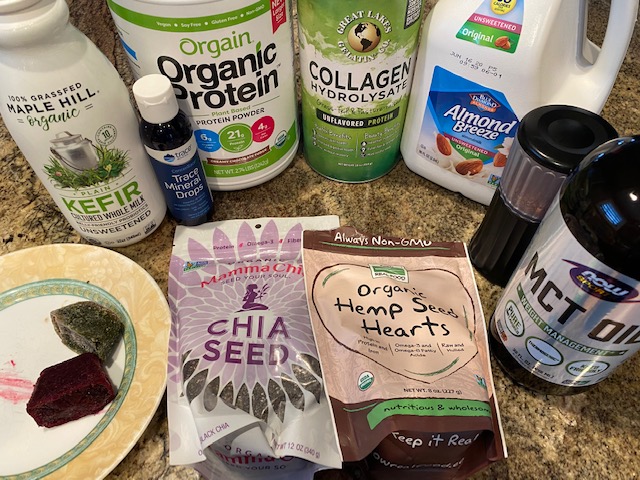 I have variations of this smoothie about every other morning for breakfast and I haven't been sick all year long. I don't claim it will prevent you from getting sick but several of the ingredients are known to straighten the immune system.
Ingredients:
• 1 Green ice cube (Kale, Collard Greens, Arugula) *
• 1 Red ice cube (Beet cube) *
• Frozen fruit (use different fruits, mix up colors)
• Avocado  (Store he half with the seed still attached in the refrigorator as the seed helps preserve it)
• Kefir or Yogurt – unflavored (use different types, 1/3 of liquid base)
• MCT Oil (tablespoon)
• Mineral drops (read instructions on amount, too much could be harmful)
• Chia seeds (stored in freezer)
• Hemp hearts (stored in freezer)
• Flax seed (freshly ground with hand mill, stored in refrigerator)
• Collagen (2 scoops)
• Protein Powder (1 scoop or 2 scoops if you just worked out)
• Liquid (1/3 water, 1/3 Unsweetened Almond Milk or Coconut Water, 1/3 plain unsweetened Kefir or Yogurt)
I have a Ninja bullet blender and I love it. I load up the frozen items first then the liquids and put the powders in last near the blade. This way the powders do not stick to the walls of the blender.
*In all my smoothies I always include one of my pre-made red and green ice cubes. The red cubes are steamed beets blended with the steamed water, cooled, and scooped into 4 ice cube trays. After frozen, I store the red ice cubes in Ziploc bag in the freezer ready to use. I also lightly steam collard greens, kale, arugula together and freeze them the same way and make green ice cubes. It does take a little extra time to prepare these bags of red and green ice cubes, but they last me about three months. I set the hot pan I steamed them in on ice in the sink. Then, after they cool down, I use the water that I steamed them in to blend up the contents, as the steamed water has the nutrients lost in the steaming process. By taking the time to make these cubes, you save time as over the hassle of putting fresh kale or beets in your smoothies every time you make them. I like mixing up the fruit and try to use different colors of fruit. I also mix up the vanilla and chocolate protein powder.  If you don't like beets, kale or collard greens, it is perfect, because you are able to get all the nutrients without the flavor.
I purchased the:
Flax seed hand mill on Amazon
The flax seed "whole seeds", Collagen, Chia seeds, Mineral drops, MCT oil at Natural Grocers
The protein powder and most the frozen fruit at Sam's Club
Written by Martin A. Sajbel, Independent Insurance Agent 303-716-0970
---